Rashida Tlaib Finally Gets Censured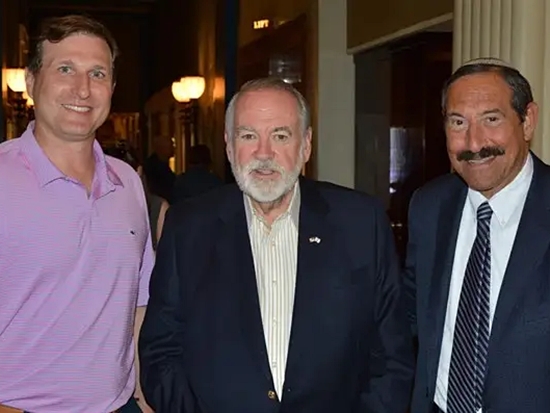 left to right: Congressman Dan Goldman (D-NY10), Gov. Mike Huckabee and Dr. Joseph Frager
11/12/2023, 12:58:43 PM
Ever since Rashida Tlaib was elected to Congress in 2019 from Michigan she has been the most vocal critic of Israel and tireless supporter of the BDS Movement which is considered Anti-Semitic. After four years of Anti-Israel rhetoric and Anti-Semitic statements Congress finally voted to censure her on November 7th 234 to 188. The resolution was brought by Republican Congressman Rich McCormick of Georgia. It accused Tlaib of "promoting false narratives regarding the October 7th, 2023, Hamas attack on Israel and for calling for the destruction of Israel."
A similar resolution was brought by Congresswoman Marjorie Taylor Greene also of Georgia a week earlier and was defeated 222-186. Her resolution included Tlaib's participation in an October 18th Capitol stand-in. It also mentioned Tlaib's "anti semitic activity, and sympathizing with terrorist organizations".
The McCormick resolution dropped Greene's use of the word "insurrection" to describe the Capitol complex event and brought up the fact that Tlaib "continued to knowingly spread the false narrative" that Israel intentionally bombed the Baptist Hospital in Gaza. This was despite evidence accepted by President Biden and even the New York Times that showed a rocket fired by Islamic Jihad hitting the hospital.
Tlaib's use of the chant "from the River to the Sea" was noted by McCormick's resolution as "widely recognized as a genocidal call for violence to destroy the State of Israel". Although he did not vote for the censure House Minority Leader Congressman Hakeem Jeffries when asked if he has concerns over Tlaib's use of the chant," Of course I do". Tlaib was also quoted saying, "Joe Biden supported genocide of the Palestinian people ."
What most don't know is that Rashida Tlaib's grandmother lives in a million dollar villa in Beit Ur Al Fauqa which is 15 miles from Jerusalem. She has lived there since 1974 and is considered an upscale neighborhood in Judea. She lives in peace and tranquility. She has had it good. She has benefited greatly from Israel's victory in 1967. Her granddaughter would never admit that that is the reality.
The McCormick Resolution would not have passed without 22 Democrats voting to censure Congresswoman Tlaib. Although many have asked for her censure these past four years only now has it actually come to pass. Censure is one level below expulsion. Only three Democrats from New York voted in favor of the resolution: Ritchie Torres, Dan Goldman and Pat Ryan. They are to be thanked and commended. It is about time but better late than never. It is great that Dan Goldman who represents New York's 10th District and is a heir to the Levi-Strauss and Co. voted to censure one of Israel's harshest and most bitter adversaries in the United States Congress.