PRESS RELEASE: IHF Celebrates Unity & Progress At Roundtable Dinner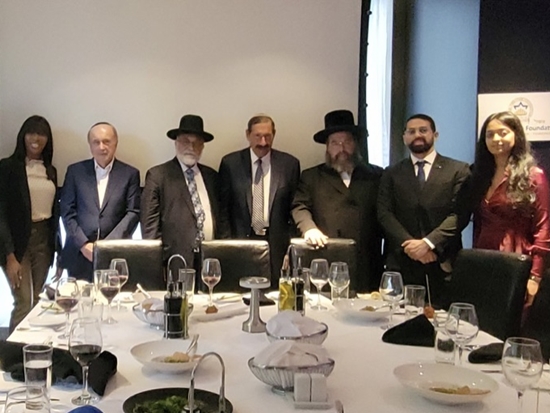 8/30/2023, 10:10:37 PM
Yesterday, August 29 2023, the Israel Heritage Foundation hosted a momentous roundtable dinner at the prestigious UN Plaza Grill, bringing together luminaries from across the globe. The event celebrated the spirits of unity, respect, and common goals between different communities, emphasizing the positive impact of good deeds and making the world a better place.
The esteemed dinner comprised:
Dr. Joseph Frager, Executive Vice President, Israel Heritage Foundation
Rabbi David Katz, Executive Director, Israel Heritage Foundation
Sultan Khalifa AlRubaei, Acting Deputy Head of Research & Advisory at Trends
Naser Mohamed Al-Ali, Director of HR Department at Trends
Rabbi Dayan, MJLC Member, President of the Jewish Cluster in ECRL, Chief Rabbi of Geneva
Martin Oliner, Vice President of the American Zionist Movement
Immpana Srri, CIO at Khoherent Inc.
Eliezer (Lazaro) Burak Sasson, Diplomat from Guatemala
H.E. Nerys Dockery, Ambassador Extraordinary, Plenipotentiary, Permanent Representative
Shoshana Beckerman, Director of the Inter-parliamentary Coalition for Global Ethics (IPCGE)
Dr. Frager remarked on the Abraham Accords' significance, stating that the dedication of the UAE representatives deserves worldwide Nobel Prize recognition. He went on to note that "the Abraham Accords will create a better situation for both the spiritual and physical worlds. We are on the same team."
Rabbi David Katz Executive Director praised the bipartisan nature of the Abraham Accords, emphasizing that it ushered in a new era of peace and unity. He also highlighted the noble actions of IHF. When tragedy has struck, IHF has stepped in to assist grieving families, giving them a stress free experience & fulfilling all requirements to demonstrate great honor & respect as needed.
Sultan Khalifa AlRubaei shared his perspective. "Both Muslims and Jews have countless similarities, many of which we only discover through deep conversations. We all hail from the same origin (Adam) Together, we can create a better world" the Sultan proclaimed.
Rabbi Yitzchok Dayan of the Conference of European Rabbis, referenced Hillel and underscored the significance of treating one another with kindness. Rav Dayan said "This foundational principle of the Torah encourages unity, respect, and collaboration."
Immpana Srri expressed gratitude for the invitation and highlighted Khoherent Inc.'s role in constructing schools in underserved areas of India and nurturing social skills in Kazakhstan.
Mr. Martin Oliner synthesized the evening's sentiments, saying "The essence of 'Tov' is divinely understood, while 'Yashar' signifies universally acknowledged goodness. The UAE is a beacon of 'Yashar' and, with G-d's grace, we shall persist in our shared journey."
Ambassador H.E. Nerys Dockery reflected on the UN Charter, underscoring its foundational statement. She emphasized "It's our collective responsibility to ensure no man, woman, or child is left behind." Dockery concluded with the message that her goal is to inspire all of us to support each other rather than tear each other down. Her dedication to this sentiment was evident as she spoke about her collaboration with the My Way Development Center. Four artists from the Center showcased visual narratives on bettering the world.
A substantial portion of the evening was devoted to the My Way Development Center. This pioneering institution is dedicated to fostering creativity and imagination, tethered to the mission of global betterment. Students from the Center were given a platform to display their artwork at the event. Each piece echoing the collective message of hope, change, and unity.
Two artworks garnered special attention:
Anastasia Levitt's creation illuminated the idea that the arts hold as much importance in education as traditional academia. She highlighted music, art, and dance as school subjects on the blackboard behind the students.
Isebella Shaloon's piece highlighted water sustainability. It juxtaposed a struggling individual trying to extract droplets from a faucet with another nonchalantly drinking and carelessly wasting water.
The gathering affirmed the shared objectives and values between diverse communities, reinforcing the importance of continued dialogue, understanding, and collaborative actions for global betterment.