PRESS RELEASE: IHF Showcases Orthodox Strides In NYC at Yom Yerushalyim Celebration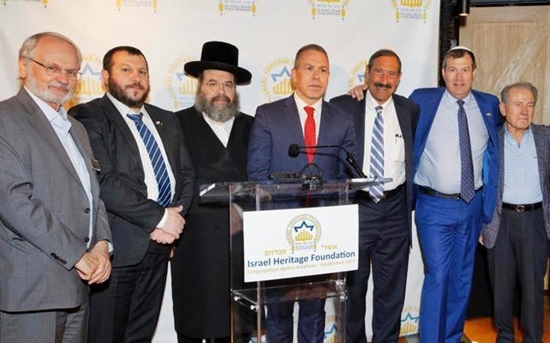 (L-R) ZOA President Morton Klein, Israel Minister of Heritage Rabbi Amichai Eliyahu, IHF Exec. Dir. Rabbi David Katz, Israel Amb. to UN Gilad Erdan, IHF Exec. VP Rabbi Dr. Joseph Frager, Dinner Co-Chair Jonathan Burkan, IHF Honorary President & Holocaust survivor Jerry Wartski
6/8/2023, 9:21:25 PM
The Israel Heritage Foundation (IHF) held their Yom Yerushalyim celebratory dinner this past Monday evening in New York City. An elite group of guests heard of a new vision for Eretz Yisrael under the leadership of Prime Minister Benjamin Netanyahu from a number of speakers headlined by powerful addresses from Israeli Ambassador to the United Nations Gilad Erdan, Minister of Heritage Amichai Eliyahu (Otzma Yehudit), and Minister of Information Galit Distel-Atbaryan (Likud). Erdan fights every day at the UN to expose the truth, to fight against lies, hypocrisy, double standards, and to bring high-ranking officers from our military and show them the real data because the UN is totally detached from reality on the ground. Distel-Atbaryan spent Israel's Memorial Day in Bnei Brak, recognizing 400 Charedi soldiers who died defending Israel, stating, "The Jewish Orthodox community is our real Iron Dome. But the fact that we have talmidei chachamim that study the gemorah and the Torah on a daily basis is the simple fact that is keeping us alive, not a bit less than our great, great army. We need to combine these both."
Over beef belly sliders and Korean fried chicken, I listened intently as Minister Eliyahu spoke of a delightful country where her people need to be prouder of one another and must take a moment to acknowledge the beauty of having "the land in our hands." Quoting an early Israeli author who labeled himself as a "sad Zionist," Eliyahu was pleased to report that today Israel is laden with very happy Zionists" who are "proud of our brothers here in the United States and of our army especially when it fights against our enemy." One same theme, Eliyahu, through the interpretation of Yoni Kempinski of Arutz Sheva – Israel National News, added, "We are proud of our roots that begin with each and every one of you; the roots of your parents, grandparents, and great-grandparents," concluding, "Whoever is connected to their roots can flourish and develop."
"Dana Arschin Kraslow spends her whole life with Holocaust survivors, she realizes and knows what the Jews went through during that horrible period," explained Rabbi Duvid Katz, IHF's Executive Director. A friend of IHF's Honorary President, Mr. Jerry Wartski, Dana eloquently connected that painful period with the State of Israel. "I am the granddaughter of a 101-year-old Auschwitz concentration camp survivor and I have dedicated my life to keeping Holocaust survivor stories alive," stated the two-time Emmy award winning journalist who heavily reported on the atrocities of the Holocaust for FOX 5 NY and News 12 and now is positioned at the Holocaust Memorial & Tolerance Center of Nassau County where her posts often surpass 100,000 views plus.
Jonathan Burkan, Dinner Co-Chairman and Holocaust Memorial Council member, related how a meeting six and half years ago with Dr. Jospeh Frager changed his life and led him on several visits to Eretz Yisrael where they had experienced a near-death episode at the gravesite of Yosef HaTzaddik, as well as met President Donald J. Trump on his first international trip abroad, and visited Prime Minister Netanyahu in his office. Burkan teased an August trip to the Holy Land and urged conservative Democrats with a love for Israel to join their incredible nonpartisan organization.
Frager, spoke of his 40-year relationship with Wartski, and noted the rabbinical forces that stood at his side over their years of advocacy culminating with the ministers in attendance who selflessly brought along a vision of Torah to New York. As his wife Karen looked on, Frager spoke of his long history with the Eliyahu dynasty as he bestowed special accommodation to the sitting Minister whose position is perfectly aligned with IHF's mission of bringing dignity to Israel's unique heritage.
Tabernacle Steakhouse and Executive Chef Michael Sullivan of Queens delivered with a succulent filet mignon that helped ease the way for Ambassador Erdan's feature address. The ambassador previously served for 17 years in the Israeli Knesset, and 12 years in the Israeli government where he fought against BDS. Two and half years ago, he was appointed to represent Israel in the United Nations. "Every day I fight against the inherent strong bias against Israel at the UN. "I remember how only 6-7 years ago when we were fighting against the BDS organizations who tried to delegitimize the whole notion of the existence of the Jewish state. We knew the Palestinian Authority was pulling the strings, but it wasn't their formal policy. Today even our enemies understand they cannot defeat us on the conventional war field." Erdan said, "At the UN, they try to weaponize every international organization to delegitimize the State of Israel." Erdan explained that Israel focusing on thier security challenges and why they cannot withdraw from the hills of Judea and Samaria, forced a notion that those Jewish residents are colonists and not the indigenous people. "The most effective tool that we have is Israel, because Israel sells itself." Erdan encouraged visits of dignitaries to the Shiloh cotton fields where thousands of years of connection between the Jewish people and the land of Israel is on display. "Strategically, Israel must maintain the bipartisan support for the State of Israel by investing in taking new communities and their leaders to visit Israel, Judah and Samaria, and Jerusalem's holy sites."
Edward Ridley Finch Cox, an American corporate and finance lawyer and the current chairman of the New York Republican State Committee, is the son-in-law of President Richard M. Nixon who was a dear friend to Israel and is credited with saving her people from the Egyptian onslaught in 1973 and the Yom Kippur War. Cox detailed his visits to Israel noting their distinct "spirit." On one visit he met the special forces in Tel Aviv who had "the same kind of energy" as those he worked alongside in New York. On another visit as Director of Noble Energy, he developed three different gas fields off Israel, the last being the Leviathan field which brought the country energy where no oil or gas existed. Today it is being exported to Egypt and to Jordan bringing in a new form of commerce. Cox thanked New York Sun founder Seth Lipsky for encouraging him to write Ukraine, "What would Nixon do?" an op-ed that appeared in the Wall Street Journal detailing Nixions approach during the Yom Kippur War when the President famously said, "I don't care, send anything that flies." A journalist at that meeting with Lipsky stated how Nixion brought a morale boost with the equipment that helped Israel on its offensive. When Moscow announced that more Russian troops were headed, Nixon replied, "We're going to come through. You send troops. We send troops." Moscow backed off until being invited back by President Obama where they remained causing a nuisance. "The only way you get something done and support an ally is to bring peace and respect through strength." Cox was asked at the Celebrate Israel Parade, "What's the relation of Israel to the United States and the Republican Party?" He replied, "We realized we were allies yesterday, and are allies still today and we will be forever."
Dr. Gene Berkovich, Jew from the former Soviet Union, and his wife Polina understand the Ukrainian Jewish community in America and the current conflict like no other. The doctor, now religious, spoke directly to his Israeli counterparts about the Law of Return introduced in 1950 entitling all Jews to come to Israel. The notion gave shelter and reunited families persecuted under Hitler. In the 1970s the grandfather clause was introduced allowing grandchildren of Jews and their non-Jewish spouses and children to enter Israel without issue. "In the years that the law has been in existence only 67 Jews came from the United States using the law, out of tens of thousands who immigrated to Israel. "Effectively a fraction of one percent." Today, for the most part, the Jews who make aliyah have no ulterior motives and there is no question on their heritage. "These Jews have no financial or any other materialistic or logistical reasons to come to Israel. They come purely with the intention that they want to be part of Jewish people." The doctor added, "The biggest issue these days is that the majority of people who come from the former Soviet Union are not Jewish by any special imagination. At least fifty percent of the more realistic figures, somewhere from seventy-five to almost ninety percent, are not Jewish." On a recent flight to Israel from Moscow, Berkovich found that only ten percent wanted to identify as Jews, in sharp contrast to the Jews from the United States of America. The Russians come widely for economic reasons and once they obtain their Israeli passports and are able to travel freely abroad. Berkovich labelled the effects of the law as "dangerous" and "detrimental to the State of Israel, to the Jewish people."
Dr. Frager noted, "Right now there are 500,000 Ukrainian Russian Jews in Israel who are not identifying as Jews and halachically probably not Jewish." The problem has not been solved by the rabbinical court and much work remains to be done. "American Jewry is alive and well," adding, "Most of ruach at yesterday's parade was from yeshivos. Life in America is mostly part of the diverse pro-Zionist and the Orthodox communities." Minister Distel-Atbaryan leads public diplomacy and is by far the strongest supporter of Charedim, spending her New York visit in the company of Chabad and the religious community. In defining Israeli heritage, the minister took the audience back 70 years to the time when her grandmother lived in Isfahan, Iran when one wanted to keep their Jewish identity in any manner possible. "To keep kosher food, Shabbat, remember where she came from, and to let her children know that no matter what their Jewish identity is the most important." The minister noted that back then an Israeli kibbutz founder would have defined their heritage as "Zionism and socialism." American progressive Democratic students today may speak of "tikkun olam and universal values," while a European progressive student would call it "apartheid and occupation." Although Israel suffers under these definitions, they each evoke huge emotion. "There is no parallel example to any people or any other heritage like our own," adding, "We are the founders of the Western civilization, and we brought this message and this heritage 3000 years ago." Despite our pain, we used the 10 commandments for the betterment of the modern world." In speaking of the Torah, the minister stated, "The simple fact is that there is one G-d, and we are his messengers," observing, "The Charedim in Israel, the Ultra-Orthodox community is the most important in Israel today and forever." I see my beloved Charedi brothers in the Israeli government, always apologetic, always scared to say the truth." The minister went on to praise the tremendous efforts of the religious to help the disenfranchised communities, but noted how they fail to state how learning Torah supersedes all their work. "This is our home because we are Jewish,and this is the transcendent truth." Talk radio host Zev Brenner asked how to get those of a secular background to grasp these values to which the minister described the obvious divide but showed how the traditional Jews with a sentiment for their Jewish identity are where she hopes to make the largest strides taking a page fro the Chabad movement that go to campuses with Jewish, progressive, unaffiliated students and somehow manage to bring them closer to Judaism with open dialogue that does not disrespect anyone, but accounts for their fears. Stanley Sved, Vice President, IHF, spoke of his 94-year-old mother, a survivor who educates Philadelphians. The minister, who is often called a Nazi by a small but loud group in Israel, expressed how similar programs to Sved's mother's speaking engagements take place in living rooms throughout the country on Holocaust Remembrance Day. Additionally, Palestinians are told the lesson of the Holocaust is not be like the Nazis. "For me, the lessons of the Holocaust is that whenever anyone would dare threaten my life or my kid's life, he will meet a great weapon, a great army, and determination." The minister also intends to showcase Israel's archaeological items, historical explanations, and information with data for the world to see the truth.
Rabbi Moshe Zakheim concluded the evening, "Today we find ourselves overwhelmed by outside sources, non-Jewish sources, anti-Semitic sources trying to dictate our way of life in Israel." The rabbi spoke of the foreign-sponsored demonstrations that threaten the duly sworn government and noted the Orthodox's positive influences in society and in the army. The rabbi continued with a history of the origins of the reform movement stemming from assimilated Jews who left Eastern Europe 150 years ago for American shores and how it has evolved today into our flourishing Orthodox movement but called on all religious Jews to speak out against anti-Israeli government and anti-Torah propaganda. Final words went to ZOA Presient Morton Klein, who bashed President Biden's antisemitism program stating that it notes if you oppose Israel's very existence, it's not anti-Semitism, and that if you support BDS, it's not anti-Semitism. Klein explained how it stops BDS supporters from being labeled an antisemite.