The Biden Administration Must Act Against CUNY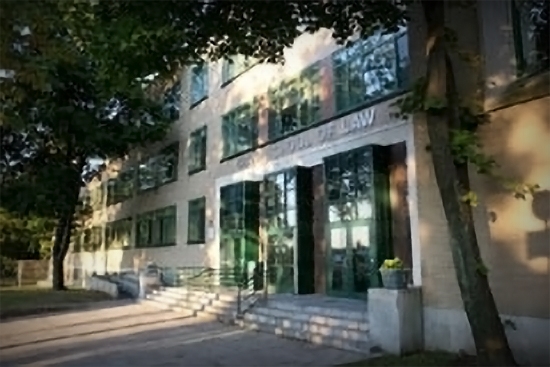 CUNY Law School. Photo: public domain
6/6/2023, 10:55:37 PM
The CUNY School of Law's commencement speaker Fatima Mohammed could be a contestant in a sordid game of how many antisemitic slurs can be packed into one speech.
In her May 12 address, Mohammed compared Jews to Nazis and called for the mass slaughter of Jews via the destruction of Israel. Both are explicit violations of the widely adopted IHRA Working Definition of Antisemitism.
These were just the worst of her antisemitic ravings. She claimed that Israel indiscriminately kills Muslim worshippers and old and young civilians, attacks funerals and graveyards, and encourages lynch mobs.
Mohammed didn't spare CUNY either. She invoked classic antisemitic tropes, accusing donors of controlling the institution. She capped off the speech with the cry of "by any means necessary," in effect rejecting legal and peaceful means of solving problems—a rather strange position for an aspiring lawyer to take.
Those who chose Mohammed to deliver the commencement speech shouldn't have been surprised at the results. She has a long history of antisemitic and anti-American hate speech.
Her recent tweets and Instagram posts have included: "may every Zionist burn in the hottest pit of hell"; "i pray upon the death of the USA"; "may every zionist like yourself face the wrath of your injustice"; "May God curse you"; "quick make dua [pray] for the fall of Zionism and the destruction of Israel"; "zionist think they're doing something when they call me a israel hater like … yeah buddy its not just hate—I don't believe israel should exist at all"; and "here is your daily reminder that a world without israel existed and a future without it will too."
At "Globalize the Intifada" demonstrations last year, Mohammed shrieked, "Glory to the martyrs… Glory to each and every single person throwing the stones"; "Demand that Zionist professors are not welcomed on your campus! Demand that Zionist students are not in spaces where Palestinian students are, because Zionism is a threat! Zionism is a genocidal threat to us!"; and "Oh God, make the fire of Muslims burn on the enemies!"
Much more insidious and abhorrent than Mohammed's personal prejudice is the institutional, systemic antisemitism at CUNY, which condoned and likely fostered her violent Jew-hatred.
Indeed, she praised the Law School's endorsement of BDS at the faculty level. Her antisemitic commencement speech was met with multiple rounds of applause and the dean who introduced her joined in.
While CUNY's Board of Trustees and chancellor condemned Mohammed's address as hate speech, School of Law professors sent a public letter to them that criticized these condemnations and openly supported Mohammed.
CAIR also joined the chorus, condemning CUNY, New York City Mayor Eric Adams, congresspeople like Ritchie Torres and the New York City Council, all of whom dared to courageously stand up to Mohammed's racist hate speech.
The CAIR press release echoed CUNY's antisemitic apologists, saying Mohammed's "speech was submitted, examined and pre-approved by CUNY in written form and a verbal recording. Furthermore, the speech was celebrated by the audience. CUNY student leaders, including the Jewish Law Students Association, have spoken up in her defense."
The far-left so-called Jewish Law Students Association, in fact, includes non-Jews such as Mohammed herself, according to Honest Reporting. It also co-sponsored the school's BDS resolution, which the regional director of the ADL criticized, noting that it effectively ostracized and alienated a large majority of Jewish students on campus.
It is not surprising that CUNY is being investigated by the New York State Division of Human Rights over allegations of discrimination against Jews. In addition, CUNY's chancellor appointed a committee to investigate antisemitism at the school.
The CUNY controversy comes on the heels of the Biden administration's announcement of a federal initiative to combat antisemitism. Thus, CUNY's culture of Jew-hatred is a real-world test of the administration's determination to root out institutional and systemic antisemitism.
If the administration's efforts are to have any credence, decisive legal action must be taken against those involved in CUNY's wrongdoing. They must be held accountable and the problem rooted out.
The federal government has the power to do this: A federal monitor can be appointed to oversee enforcement of the law, in particular Executive Order 13899 (Combating Anti-Semitism) and Title VI of the Civil Rights Act of 1964.
On the state level, New York Gov. Kathy Hochul can begin by enforcing Executive Order No. 157 and set in motion the process of ending public funding of CUNY due to its support for BDS. The state could also dissolve CUNY and merge it with the State University of New York (SUNY), enabling a more trusted academic administration, such as that of SUNY Binghamton, to deal properly with systemic antisemitism.
Unfortunately, the Biden administration has not specifically called out Mohammed's hate speech or CUNY in general. The administration's special envoy to monitor and combat antisemitism issued a non-specific tweet on June 2. It said only that targeting Jews because of their beliefs and identity or singling out Israel in a hateful manner is antisemitism and unacceptable. This is insufficient.
If the administration fails to act with firm and decisive resolve on this issue and appoint a federal monitor, it will fail the first test of its own plan to combat antisemitism. It cannot afford to do this. Failure will only encourage the further institutionalization of Jew-hatred, not only at CUNY but in American society in general.