IHF joins the RJC meeting in DC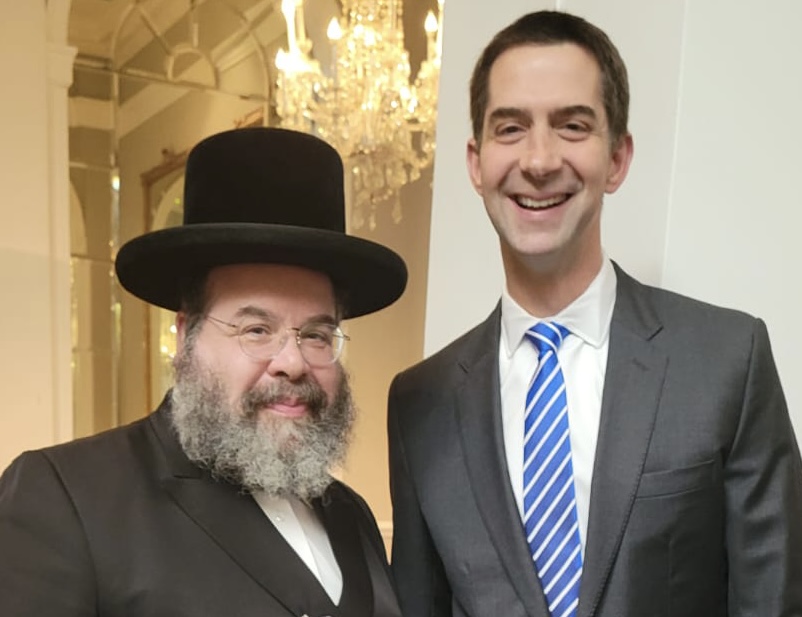 IHF Executive Director Rabbi Duvid Katz & Sen. Tom Cotton (R-AR)
5/17/2023, 9:57:01 PM
Last week, the Israel Heritage Foundation sent representatives to the RJC (Republican Jewish Coalition) Spring Leadership Meeting in Washington, DC. Dr. Joseph Frager, who has a close personal relationship with the RJC, was unable to attend, and in his place went Rabbi David Katz, Executive Director, and Hilary Goldstein, Associate Director. There was an incredible lineup of speakers, all of whom have a special connection to the Jewish community and to Israel. Sitting in a room full of like-minded individuals with shared values and passion was a tremendously enlightening experience.

Among the speakers was United States Senator Joni Ernst, from Iowa. Ms. Ernst spoke of her Christian upbringing in the state of Iowa, where the Jewish population doesn't top 7,000 people. Senator Ernst noted that while Iowa may have a small Jewish population, there is an enormous Christian coalition in support of Israel. Senator Ernst is the co-chair as well as one of the founders of the Abraham Accords Caucus, which encourages partnerships between the US, Israel, the Arab States, and other relevant countries. The Abraham Accords Caucus also provides congressional leadership to strengthen and expand the Abraham Accords by promoting the benefits of normalizing relations with Israel. Another accomplishment Ms. Ernst touted was her proposal of the Defend Act, a bipartisan effort by the Abraham Accords Caucus to combat attacks from Iranian-backed extremists through air and missile defense capabilities. Ms. Ernst gave a personal shout-out to Mr. Jonathan Burkan, Chair of the United States Holocaust Memorial Council and close friend of the Israel Heritage Foundation.

Ms. Cathy McMorris Rodgers, a congresswoman from Washington State who also serves as co-chair of the Abraham Accords Caucus, joined the panel of speakers as well. Congresswoman Rodgers sat on stage with Norm Coleman, National Chairman of the RJC and former Senator from Minnesota, and discussed her priorities in the House. Ms. Rodgers serves as the Chair of the House Energy and Commerce Committee. Ms. Rodgers noted that energy is at the top of her list of priorities and that the current administration's essential attack on US energy concerns her greatly. Ms. Rodgers made note of the fact that on his first day in office, President Biden shut down the Keystone XL pipeline. Another important priority of Congresswoman Rodger's is encouraging price transparency when it comes to healthcare.

Ms. Rodgers asked the audience to think about what exactly is driving the cost of healthcare and why it is that during the pandemic, we were unable to get basic essentials like masks, gloves and other important PPE. She continued on to note that much of these healthcare essentials are manufactured in China. 

Another powerful speaker at the RJC Spring Meeting was Mr. Michael Masters, National Director and Chief Executive Officer of the Secure Community Network. Mr. Masters brought an eye-opening prop with him on stage—none other than the chair Rabbi Charlie Cytron-Walker threw at the gunman who held Walker and three others hostage at a synagogue in Colleyville, Texas, in January of 2022. Mr. Masters spoke about the importance of arming ourselves with knowledge of what to do in the event that we are attacked, which unfortunately, we in the Jewish community know happens all too often. Mr. Masters asked the crowd, "How many of you know how many exits there are in this room?" "The stakes couldn't be higher. How many more attacks? How many more victims are we willing to accept? Everyone always says they don't think it will happen here. It can," Masters continued. Mr. Masters spoke of the Hebrew phrase "Hineini," which means "here I am." He asked Rabbi David Katz of the Israel Heritage Foundation to confirm the meaning and then went on to say, "When God calls on us to do something, we say hineini, here I am." This chair is a reminder that there was a group of people in danger who said, "Here I am."

We also heard from Senator Steve Daines from Montana, who serves as the Chair of the NRSC, the National Republican Senatorial Committee, which is the only national organization solely devoted to taking back the Republican Senate Majority. Senator Daines began by speaking about an unfortunate trend we are seeing among Democrats when it comes to support for Israel. Senator Daines brought the audience's attention to the 2023 Gallup poll which shows that 49% of Democrats sympathize more with the Palestinians while 38% sympathize with Israel. He said he believes it is important that we as a country keep Israel a bipartisan issue. 

One of the highlights of the Republican Jewish Coalition Spring Leadership Meeting was hearing from Tom Cotton, a junior senator from Arkansas. Senator Cotton is a champion for Israel, border safety, and free speech, among other important issues. Senator Cotton wasn't shy in stating that Iran is an aggressive dictatorship that is the worst state sponsor of terrorism and has no qualms about seizing and attacking US tankers with Americans onboard. Senator Cotton questioned why it is that Iran has attacked American positions 83 times since President Biden took office, yet America has only retaliated four times. Senator Cotton shared that he believes Iran no longer fears retaliation by the US.  Senator Cotton continued, noting that we have become weaker and less powerful as a nation in the face of our enemies under the Biden administration. Many of the speakers pledged their support for Ukraine, including Senator Cotton. He suggested that a major reason for the invasion of Ukraine was due to the "disastrous withdrawal from Afghanistan." Senator Cotton discussed the fall of Kabul and the position to post thousands of Russian troops at Ukraine's borders by President Putin. Mr. Cotton fears we as a country didn't show our staunch support quickly enough and that we would be in a very different place in Ukraine if we had . A sentiment Senator Cotton shared with the majority of the other speakers was that if Russia does indeed win this war and take over Ukraine, there is no question that Taiwan is next. He believes China is waiting to see what the end result will be between Russia and Ukraine and that we need to pledge our support now for Taiwan rather than wait until it is too late.

It was a truly remarkable privilege to be in the audience at the Republican Jewish Coalition Spring Leadership Meeting. Listening to politicians who proudly stand with the State of Israel as well as the Jewish community in the United States was an honor. Thank you to the RJC for hosting this important meeting. May we go from strength to strength and continue to fight for what is right and to ensure a safer future for our children and for many years to come.