PRESS RELEASE: Israel Heritage Foundation Condemns Senator Sanders and Rep. Tlaib for Facilitating Antisemitic Event at the Capitol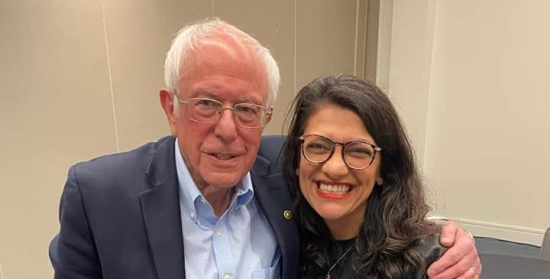 Bernie Sanders and Rep. Rashida Tlaib (D-MI12). Photo: Twitter
5/12/2023, 1:57:38 PM
The Israel Heritage Foundation today condemned Senator Bernie Sanders and Rep. Rashida Tlaib for facilitating a blatantly antisemitic and anti-Israel event at the U.S. Capitol. After Speaker of the House Kevin McCarthy intervened and canceled an event at the Capitol Visitor Center entitled "Nakba 75 and the Palestinian People," which was supposed to feature Rep. Tlaib, Senator Sanders stepped in and allowed the meeting to be held in the Senate Health, Education, Labor and Pensions Hearing Room, which is located in the Senate office building, outside of Speaker McCarthy's purview. "Nakba," which is the Arabic word for disaster, is an annual day established by the Palestinian Authority to mark the "catastrophe" of the establishment of the State of Israel in 1948. 

At the antisemitic event, which was also attended by Rep. Cori Bush, Rep. Tlaib referred to Israel as an "apartheid state" that engages in a "sustained campaign of terror." 

"It is absolutely shameful that Senator Sanders abused his power by going out of his way to facilitate a gathering of hatemongers at the U.S. Capitol, the sole purpose of which was to vilify the State of Israel," said Farley Weiss, chairman of the Israel Heritage Foundation. "Willingly and proactively giving a platform to Rep. Tlaib and enabling her to propagate antisemitism and her outrageous and dangerous anti-Israel views is disgraceful, and Senator Sanders should face serious consequences from the Senate leadership in light of his shocking and negligent actions. Senate Majority Leader Chuck Schumer should take immediate action in response to Senator Sanders' reckless behavior and remove him from all Senate committees, and congressional leaders should promptly remove Rep. Tlaib and Rep. Bush from their committee assignments for actively participating in this despicable antisemitic forum." 

"There must be a zero-tolerance policy in Congress for antisemitism and antisemitic events, and such blatant bigotry on the part of these federal lawmakers must be addressed strongly and swiftly," Weiss added. "Congressional leaders need to make changes to ensure that this does not happen again in the future." 

"Senator Sanders' actions are an embarrassment to the United States Senate and pose a danger to the American Jewish community and the State of Israel," said Rabbi David Katz, Executive Director of the Israel Heritage Foundation. "Partnering with Rep. Tlaib, who makes no secret about her utter disdain for the Jewish State, and facilitating a forum that was organized in order to publicly promote falsehoods about Israel and spew antisemitism is reprehensible, and we denounce Senator Sanders for his abhorrent actions." 

Founded in 1974 by Holocaust survivors, the Israel Heritage Foundation works to support sovereignty throughout Israel, including Judea and Samaria, strengthen Israel's security, encourage worldwide Aliyah, combat bigotry and antisemitism by showing Israel authentically, and establish genuine peace through Israel's good deeds and innovation.