PRESS RELEASE: IHF Calls on Other States to Follow Florida's Lead and Enact Legislation Combatting Anti-Semitism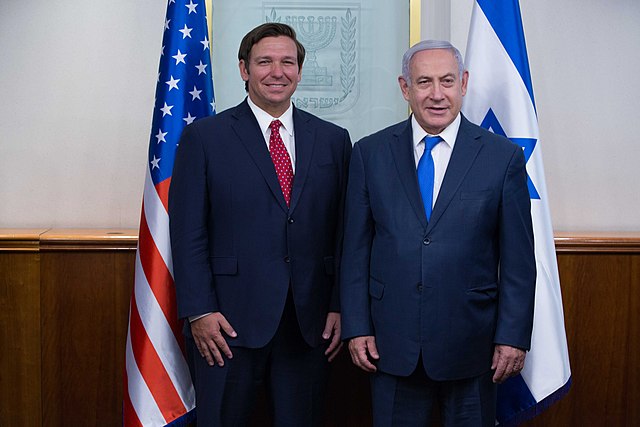 FL Governor Ron DeSantis and Israel PM Benjamin Netanyahu. Photo: Government of FL
5/1/2023, 7:56:54 PM
The Israel Heritage Foundation today called on states across the country to enact legislation combatting antisemitism after Florida Governor Ron DeSantis signed a bill that gives law enforcement agencies new mechanisms to penalize individuals who engage in antisemitic acts and target religious communities. The Israel Heritage Foundation, which was involved in the bill's passage, applauded Governor DeSantis and the Florida legislature for taking concrete steps to address the rise in antisemitism by protecting the Jewish community and others from harassment and intimidation. According to the Anti-Defamation League, Florida had 269 antisemitic incidents recorded last year, which is fourth highest in the nation.

HB 269, which was signed by Governor DeSantis during a trip to Israel, implements several anti-hate measures, including criminalizing acts such as putting hate flyers on private property and placing public displays on property without the permission of the owner. It also makes it a crime to maliciously harass, threaten, or intimidate people based on their religious affiliation and prohibits prohibiting people from willfully and maliciously harassing, threatening, or intimidating another person based on the person's wearing or displaying of any indicia relating to any religious or ethnic heritage.

"By strengthening Florida's ability to fight antisemitism and criminalizing conduct that is central to the rise of antisemitism in America, Governor DeSantis took an important step towards safeguarding his state's large Jewish population and sent a clear message that Florida has a zero-tolerance policy when it comes to hatred against Jews," said Farley Weiss, chairman of the Israel Heritage Foundation. "Protecting the free exercise of religion in Florida and holding perpetrators of antisemitism accountable for their abhorrent actions is an essential component of protecting our religious liberties, and we commend the governor and legislature for enacting this critical legislation. Antisemitism can be significantly curtailed when antisemites are punished and deterred, and with this legislation Governor DeSantis has kept his promise to be the most pro-Israel governor in the nation and his state is now the leader in the fight against antisemitism in America."

"Every one of the fifty states should assess how they can strengthen their efforts to combat antisemitism," said Rabbi David Katz, Executive Director of the Israel Heritage Foundation. "In today's climate, where antisemitism is on the rise and hate crimes against Jews are becoming more prevalent, it is essential that states have legislation in place that toughens penalties for people that target and harass Jews solely because of their ethnicity and religious beliefs. We strongly support the legislation enacted by Florida and encourage other states to follow suit."

Founded in 1974 by Holocaust survivors, the Israel Heritage Foundation works to support sovereignty throughout Israel, including Judea and Samaria, strengthen Israel's security, encourage worldwide Aliyah, combat bigotry and antisemitism by showing Israel authentically, and establish genuine peace through Israel's good deeds and innovation.