Thirty Years Since Oslo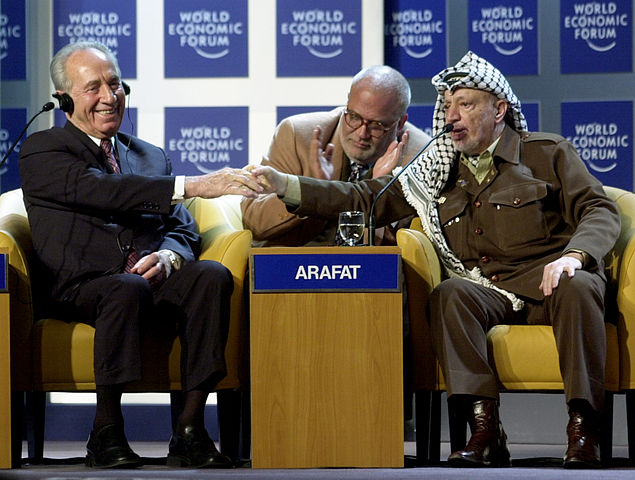 Yasser Arafat at the World Economic Forum. Photo: Remy Steinegger, CC 3.0
4/17/2023, 10:18:31 AM
We are fast approaching September 13th, 2023 which represents 30 years since the Oslo Accords were signed on the South Lawn of the White House when Bill Clinton was President. It was one of Israel's worst mistakes in its 75 years of Statehood. The arch Terrorist Yasir Arafat was elevated by the international community into a statesman. He never changed his stripes. Israel has suffered immensely since Arafat and his minions were given diplomatic status and legitimized. Since the Oslo Accords were signed at least 1661 Israelis have been murdered. Many more have been wounded. Sixty four Americans have been killed in Israel by Arab terrorists since the Oslo Accords were signed. Not a whimper from the State Department.
The Oslo Accords were by no means accepted by a clear consensus or majority of Israelis. Shimon Peres convinced two members of the right wing Tzomet Party, Gonen Segev and Alex Goldfarb to vote for the Oslo Accords. They were given ministerial positions. Had Segev and Goldfarb voted with the rest of their party, the Oslo Agreement would have never come to be. The Tzomet Party was led by true right winger Rafael Eitan. How Segev and Goldfarb could have broken rank is troubling to me 30 years later.
Israel and the international community view the Oslo Accords as a mistake but continue to fall prey to the same type of thinking that brought it into existence 30 years ago. Giving guns to terrorists was always a bad idea. This is precisely what Israel did. The consequences have been tragic and devastating.
More than twice as many Israelis were murdered from 1993 to the present as had been killed in terrorist attacks from 1967 to 1993. The recent spate of murders of Lucy Dee(48), Maia Dee(20), Rina Dee(15), Or Eshkar(32), Elan Ganeles(27), Hallel Yaniv(21), Yagel Yaniv(19), Shlomo Liderman(20), Yaakov Yisrael Paley(6) and Asher Menachem Paley(8) (H'YD) all have their roots in the Oslo Accords.
Mahmoud Abbas still honors the murderers and continues to pay hefty sums of money to the families of the murderers. Until Israel and the international community stop the charade that has been going on for 30 years Terrorism will remain a major problem in Israel. Enough is enough.