IHF Joins Nassau Co. Exec Blakeman for Int'l Holocaust Remembrance Day 2023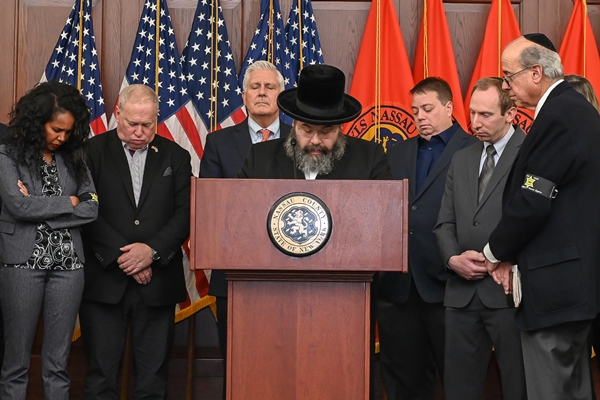 3/22/2023, 3:04:00 PM
On January 25, 2023, Nassau County Legislator Arnold W. Drucker and Nassau County Executive, Bruce A. Blakeman hosted religious leaders and colleagues at the Theodore Roosevelt Executive and Legislative building to commemorate International Holocaust remembrance day. 

The observance came two days before the official observance of International Holocaust Remembrance Day on Friday, Jan. 27, which coincides with the liberation of the Auschwitz-Birkenau concentration camp in 1945. 

"On International Holocaust Remembrance Day, we pay solemn tribute to the lives of the 6 million Jewish victims and millions more innocent people who perished at the hands of Nazi barbarism," Legislator Drucker said. "As we continue to combat the ugly scourge of hatred around the world, we must remain unwavering in our commitment to educating future generations and standing up to antisemitism and bigotry at every opportunity. May the light of the memories of the victims of the Holocaust be our beacon as we fulfill our solemn pledge to never forget the lessons of history."

In attendance at the Holocaust commemoration were Israel Heritage Foundation Executive Director, Rabbi David Katz and MK Simcha Rothman, a member of the Israeli Knesset for the Religious Zionist Party. Rabbi Katz was honored to say the prayers of Kel Molei Rahcamin, a prayer said for the souls of people who have passed away, for the six million Jews who perished in the Holocaust. Rabbi Katz noted that it was fitting for him to recite this prayer as his grandparents were from Romania and Krakow Galicia, Poland and his wife's grandparents were from Hungary, all surviving the Holocaust. MK Simcha Rothman spoke of the importance of remembering the Holocaust and to fight those who deny its history. He noted that Anti-Semitism is a plague on our society and we must stand united against it. 

Mr. Blakeman spoke proudly of his Jewish constituents. The Jewish community in Nassau Country makes up 19% of it's residents. He commented on how in America, people are free to practice religion and observe holidays and customs, a right that should and will always remain sacred. Mr. Blakeman detailed how he fought against those who wanted to boycott Israel and will continue the fight, his connection to his people and homeland stronger than ever. Executive Blakeman is the first Jewish Nassau County Executive to hold the title. As a child, his grandfather asked him to promise that ge would never ever forget he is both and American and a Jew. He vowed never to forget.