'One Of The Greatest Friends Of Israel' Mike Pence Addresses New York's Jewish Community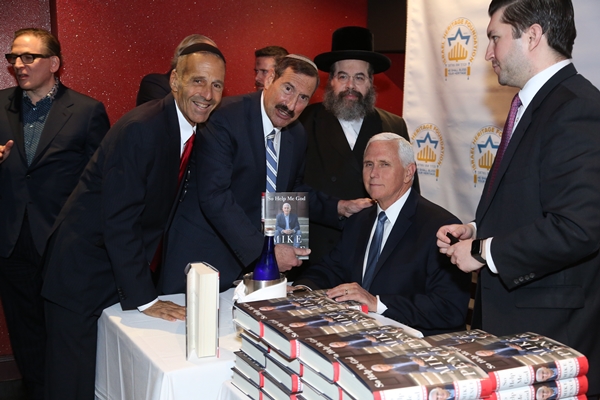 3/8/2023, 3:27:39 PM
"Let me say from my heart of hearts, from this small-town guy from the heartland of America, if the world knows nothing else, let the world know this, America stands with Israel," proclaimed former Vice President Mike Pence at a book signing event held at Mike's Bistro in Midtown Manhattan for his autobiography So Help Me G-d this past Wednesday evening, February 26.
"Somehow the media is creating a rift between Israel and America," observed Rabbi Dr. Joseph Frager, dinner chairman and executive vice president of the Israel Heritage Foundation. "I'm here to say there is no such thing. We are one. Israel needs America, and America needs Israel. It is a shoulder-to-shoulder relationship. The vice president has been one of America's greatest friends of Israel."
"In 2011, I was part of a Jewish group that heard from a congressman from Indiana named Mike Pence, and we were like, we gotta get this guy to come to New York. He loves Israel," stated Jonathan Burkan, dinner co-chairman. At the time, Pence, who had a mentor who embraced the Jewish state, remarked, "My love for Israel goes back to 1986." Burkan also acknowledged the presence of IHF Honorary President Jerry Wartski, who survived Auschwitz, as one of the most inspirational people he has ever encountered.
"Today we know Mi'she'nichnas Adar marbim b'simchah," began Rabbi Duvid Katz, IHF Executive Director. "Today was the first day of the month of Adar, counted amongst the Jews as the happiest." The ever-present smile affixed on the former Vice President exuded this. "We know that if a person has a heart attack or goes into cardiac arrest, medical people will perform CPR." Katz compared Pence's work to that of CPR (care, please, and respect), exemplified by his care for the people of America, and Israel.
Rabbi Dovid Hofstedter, Nasi of Dirshu and a Canadian real estate investor and philanthropist, called Pence a great statesman and a great leader who has served this country with such distinction and devotion, who has been such a loyal friend to the Jewish people and the State of Israel. "We had the privilege of meeting not long ago, and I expressed, as a son and son-in-law of Holocaust survivors, the feelings and grave concern for the tragic increase in anti-Semitism in America and around the world. This trajectory, the decline in the moral values of society, the increase in anti-Semitism is so concerning, that even people who speak out against it, including public leaders, and politicians, are themselves recipients of hate." Rabbi Hofstedter met privately with Pence to review these concerns about our society, and the restrictions on education that curtail the basic freedom of parents to educate their child according to their beliefs. The rabbi encouraged mutual respect and having the courage of our convictions to fight the lack of dignity and civility in the public realm. Rabbi Hofstedter explained that Pence stands up for his principles in the face of criticism, while retaining pride in his faith, country, and the Constitution.
IHF presented its President, Dr. Steven Soloway, with a gorgeous talis bag and T'hilim from Israel in celebration of his 60th birthday. Dr Frager added, "In Jewish tradition, the only birthday that we are allowed to celebrate is 60 because that is the age where we know that G-d loves us."
"To be disliked, you had to have stood up for something that mattered," said Sam Nahmias, Commissioner of the Nassau County Bridge Authority, who attended with his wife Monica. "Mr. Vice President, I believe that there are millions of people in this country and billions on this planet who like you very much. Tremendously, sometimes standing up for something important matters. I followed the greatest accomplishments of your administration and your very strong will and desire to help our nation. Under your administration, Justice Barrett was nominated and became a Supreme Court Justice who went on to protect religious freedom that would not have happened without you. Your work has led to the recognition of Jerusalem as the capital of Israel, to Israel's sovereignty of the Golan Heights. Today, we need more faith. Without belief, our country will be destroyed. There's a very strong distinction between being honored and feeling honored. Mr. Vice President, you have been humble to feeling honored and to have been the Vice President. Your work is the very cornerstone of a leader that we need today in America."
"With Mike Pence, we got a true conservative and patriot to drive the country forward and who was the rudder of conservatism for the Trump-Pence administration," expressed IHF Vice Chairman Dan Eberhart, a Fox Business contributor with extensive knowledge on energy. "Maybe it is time for that rudder to rise and be a new lodestar for the Republican Party."
Harley Lippman, CEO of Genesis 10, unearthed 53 mass graves in Poland that the Nazis created during the Holocaust prior to gassing in the extermination camps. The deceased were all identified with Yad Vashem. Lippman, along with Sandy Gerber, is responsible for the Taylor Force Act, which bans the PLO from getting any additional funds if they are used for paying off terrorists. "Nobody, but nobody, is more pro-Israel than Mike Pence. Sixteen years ago, to the day, on February 14, when he was the ranking Republican leader in the House in the Foreign Affairs Committee, he had his subcommittee people testifying about Israel. Dr. Daniel Pipes, a Super Zionist, was chastised by Pence for not being pro-Israeli enough." Lippman once asked Pence why he was so pro-Israel and so pro-Zionist, to which Pence replied, "The Bible tells me if you bless Israel, G-d will bless you. If you curse Israel, G-d will curse you." Lippman recalled a time when Pence visited his Manhattan home when Israel withdrew from Gaza, saying, "Let's get together a group of Jewish leaders and let's sit down in Gaza and refuse to move." "What G-d gave the Jewish people, no man can take away," Lippman once heard Pence state.
Lippman recently returned from a USAID mission in Israel with 50 Palestinian leaders, where he visited the West Bank and Nablus. "Mike Pence is an extraordinarily modest man, perhaps too modest, but he came up with the toughest anti-BDS bill and helped create a foundation to fight anti-Semitism. Elie Wiesel, whom I spoke to shortly before he died, related, 'Hardly we as Jews, are a beleaguered people and Israel as a nation is a beleaguered nation and we do not have friends; our best friend is Vice President Mike Pence.'"
"Growing up in a small town in southern Indiana," Pence remarked, "Israel has always had a special place in my heart. As I wrote in my book, the songs about Israel were the anthems of my youth. Growing up in a large Catholic family and sitting in the pews over the holidays, we sang about Israel. We sang about G-d's faithfulness, His promise. When I became an adult and first ran for office, and now more than 35 years later, it is the mentoring role of people that understood not only the history and the promises of Providence, but also the practical real-world challenges that Israel faces. and I was able to be a champion for Israel through all my career. Never underestimate the role that you can play in the life of any man or woman who would aspire to serve this great city, state, or nation. I encourage you to do what this foundation has done throughout its existence, and that is encourage people to mentor.
I arrived in the Congress with some knowledge about Israel and her miracle reestablishment in 1948, along with the great challenges the people of Israel have faced through thousands of years like no other people on Earth. Every time I heard Israel being debated on the floor of the Congress, I would sprint to the House of Representatives, usually with my colleague, Congressman Eric Cantor of Virginia, right at my side. He would go on to be the most prominent Jewish Republican to serve in Congress. I would speak about the challenges, I would speak about the tragic history and the deep love the American people have for our relationship with Israel. The love for Israel echoes in every little buckboard church by every cornfield in America, and you can count on the support of everyday Americans from every walk of life for America and Israel.
"I was in the study at the governor's residence when I got a call from a fellow New Yorker in the summer of 2016 to run and to serve as your vice president; it's the greatest honor of my life. I heard that very familiar voice say, 'Mike, it's going to be great. We can win this thing. We gotta.' I said, 'Well, Donald, if there's a question in there, the answer is yes.' You know what? It was great. We not only won an election in 2016, but it was my great honor to be part of the most pro-Israel administration in the history of the United States of America. We removed the United States from the UN Human Rights Council for its blatant anti-Israel bias. We shut down the PLO office in Washington, DC. We issued the strongest executive order ever written to combat anti-Semitism on campuses across the country, and we banned taxpayer dollars from any institution of higher education that trafficked in anti-Semitic hate. We withdrew from the disastrous Iran nuclear deal, and we isolated Iran as never before, and of course, it was my great honor to stand beside the president in the diplomatic room after four successive administrations in both political parties had promised and broken that promise, we recognized Jerusalem as the eternal capital of the State of Israel. It was my great honor to travel to Jerusalem just a few short weeks later and speak about that decision and the movement of the American Embassy before the Knesset. I will have no greater honor in my life."
After Pence left the Knesset and returned to the hotel, the phone rang with a regular call from President Donald Trump, saying that he had done a good job on the speech, but that the State Department feared the new embassy would take ten years and cost a billion dollars. Pence explained that a site was chosen, but Trump insisted on involving Ambassador David Friedman, who knows real estate. At the airport, as Pence boarded Air Force Two, Ambassador Friedman, the greatest champion of Israel in the Trump-Pence administration, appeared. Pence delivered the President's message to "Just do it," adding, "That's how you people from New York handle things. Am I right?"
As evidence of the good judgment that was reflected in that, nine months later, the American Embassy opened in Jerusalem at a cost of just $700,000. Pence returned to open the embassy and cherished his meeting with Prime Minister Benjamin Netanyahu of Israel as they posed by the cornerstone of the structure just outside the front door. Customarily, embassy cornerstones list the President of the United States and list the ambassador at the time the embassy is dedicated. Between those two names rests Pence's name, a gift from Friedman. "I will always be proud of the record of the Trump-Pence administration, and I will never stop fighting for the values that we advanced, especially with our most cherished ally, Israel. Be vigilant, lean in to be vocal, because these are uncertain times in the relationship between the United States and Israel.
The event included an array of guests, including Assemblyman Ari Brown; NYPD Inspector Richie Taylor, Commanding Officer of the department's Community Affairs unit; Joel Eisdorfer, Senior Advisor to New York City Mayor Eric Adams; Former Ambassador to Finland, Bob Pence (no relation); news anchor and radio host Rita Cosby; Assemblywoman Beth Sawyer of Southern New Jersey; Fred Kreizman, Commissioner of the Mayor's Community Affairs Unit; and Ed Cox, a state Republican chairman. The event can be viewed on [Queens Jewish Link's] homepage, queensjewishlink.com.
This article was originally published on March 1 in the Queens Jewish Link.