Chairman Weiss: Voting Against An Anti-Semite Should Be An Easy Decision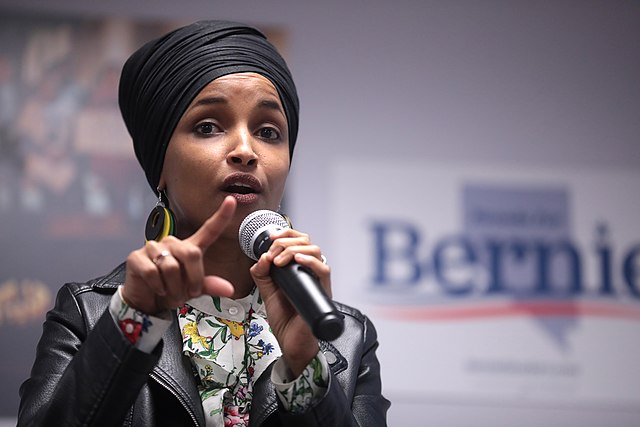 Ilhan Omar (D-MN) at a Bernie Sanders event. Photo: Gage Skidmore, CC license
1/31/2023, 10:24:57 AM
There should be bipartisan consensus in support of House Speaker Kevin McCarthy's move to remove antisemitic Rep. Ilhan Omar (D-Minn.) from the House Foreign Relations Committee. Unfortunately, there isn't.
This is shocking because on March 7, 2019 both parties overwhelmingly passed Resolution 183 condemning antisemitism. The resolution was initiated in response to antisemitic comments made by Omar and her fellow Rep. Rashida Tlaib (D-Mich.). The text stated that the purpose of the resolution was to "ensure safety" for Jews and that "accusing Jews of being more loyal to Israel or to the Jewish community than to the U.S. constitutes antisemitism."
This was a direct response to Omar, who on Feb. 27, 2019 claimed supporters of a strong U.S.-Israel relationship "push allegiance to a foreign country."
In fact, McCarthy first called for Omar's removal from the Foreign Affairs Committee way back then. I personally spoke to him about the matter on March 31, 2019 when he was the keynote speaker at the National Council of Young Israel dinner. McCarthy expressed his opposition to both Omar and Republican congressman Steve King, who had made favorable comments about white supremacy.
Today, regrettably, Reps. Victoria Spartz (R-Ind.) and Ken Buck (R-Colo.) oppose Omar's removal, falsely claiming that it is revenge for the Democrats' removal of Reps. Marjorie Taylor Greene (R-Ga.) and Paul Gosar (R-Ariz.) from their committees. Spartz and Buck are likely to be joined by Rep. Nancy Mace (R-S.C.). In addition, Democratic opposition to Omar's removal will probably be unanimous, even though several Democratic congresspeople have accused Omar of antisemitism.
One wishes these congresspeople had the courage of former Democratic representative Elaine Luria, who clearly referred to Omar in her farewell speech.
"The first time I stood in this very place to speak on the floor of the House, I rose as a Jewish woman to speak out against antisemitism, which has seen a rapid and alarming rise and has even reared its head among our colleagues in our own chamber, in the forms of claims of dual loyalty to those who show support for Israel, our strongest ally in the Middle East," Luria said.
Luria had previously collaborated with Reps. Josh Gottheimer (D-N.J.), Kathy Manning (D-N.C.) and Dean Phillips (D-Minn.) on a May 26, 2021 letter to U.S. President Joe Biden. It stated that the congresspeople "reject comments from members of Congress accusing Israel of being an 'apartheid state' and committing act[s] of terrorism."
"These statements are antisemitic at their core and contribute to a climate that is hostile towards many Jews," the letter continued. "We must never forget that less than 80 years ago, within the lifetime of our parents and grandparents, six million people were murdered by the Nazis in the Holocaust because they were Jews."
"Israel has long provided the Jewish people with a homeland in which they can be safe after facing centuries of persecution," it added. "Sadly, we have learned from our history that when this type of violence and inflammatory rhetoric goes unaddressed, it can fuel increasing hatred and violence, and lead to unspeakable acts against Jews, even in the most civilized, modern societies."
If they are to be consistent with the principles stated in their letter, Manning, Phillips and Gottheimer must vote to remove Omar, because Omar's views directly contradict those principles. She supports the antisemitic BDS movement, which calls for economic warfare against Israel and whose goal—as stated by one of its leaders, Omar Barghouti—is the destruction of the Jewish state. Omar even lamented that Hamas did not have the Iron Dome and supported the terror group while it launched 4,000 rockets against Israel in May 2021. She called Israel's response to the rockets "an act of terrorism."
FBI Director Christopher Wray recently said that antisemitism accounts for 63% of all religious hate crimes in America, even though Jews are only 2.4% of the population. It is clear that Omar's mainstreaming of antisemitism has contributed to this wave of violence. Indeed, her antisemitism is shared by white supremacists such as David Duke, who on March 7, 2019 called her "the most important member of the new Congress." Notorious antisemite Louis Farrakhan has also praised Omar for her antisemitic statements.
Congress now has a chance to state clearly that there is no place on the House Foreign Affairs Committee for an antisemite. Failure to do so would show that congressional talk about fighting antisemitism is cheap, and when it comes to taking action against antisemitism, Democratic congresspeople are unwilling to do so, and neither are several Republican House members.
The decision to take a stand against antisemitism should be an easy one. Yet for some, apparently, it is too much to ask. As such, the vote on Omar's removal will be a litmus test for the new Congress. History will remember who stood up and voted to "ensure safety" for the Jewish community and who did not.