Chairman Weiss: The Democrats Must Have A 'Sister Souljah Moment' on Antisemitism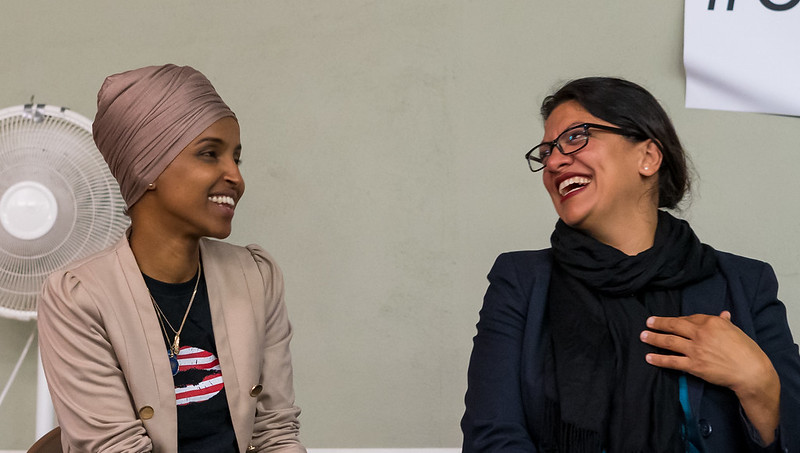 (photo credit: Brad Sigal)
12/28/2022, 9:02:06 PM
The recent rise in American antisemitism is the result of a lack of consequences for those engaging in it.
For example, Americans Against Antisemitism studied 194 anti-Jewish assaults and 135 attacks on Jewish property in New York that have taken place since 2018. According to their July 2022 report, only two of the perpetrators actually went to prison.
A similar situation is occurring on college campuses. Students who harass Jews are rarely if ever suspended or expelled, and almost never face any consequences at all. This has emboldened antisemites on campus, with a chilling effect on Jewish and pro-Israel voices.
Colleges have codes of conduct according to which harassment of other students can result in serious ramifications. These codes have not been enforced against antisemites.
In the realm of politics, when Reps. Rashida Tlaib and Ilhan Omar engaged in anti-Jewish and anti-Israel comments, and expressed support for BDS, their fellow Democrats were initially prepared to take action against them. A resolution passed by the House of Representatives (H.R.183) sought to "ensure safety" for Jews. It stated, "Accusing Jews of being more loyal to Israel or to the Jewish community than to the U.S. constitutes antisemitism."
The resolution was a response to Omar's comments, with Tlaib by her side, that supporters of a strong U.S.-Israel relationship "push allegiance to a foreign country." In Jan. 2019, Tlaib criticized Sen. Marco Rubio's efforts to punish those who attempt to boycott Israel, tweeting, "They forgot what country they represent." Rubio posted, "The 'dual loyalty' canard is a typical antisemitic line." Neither Tlaib nor Omar have apologized for these statements.
Instead of making it clear that Tlaib and Omar's bigoted views are anathema to the Democratic Party, House Speaker Nancy Pelosi endorsed both for reelection.
Sadly, it is not surprising that several Jewish organizations, including the Religious Action Center of Reform Judaism and Ameinu, along with the left-wing lobby J Street, issued a statement saying they "oppose Republican Leader Kevin McCarthy's pledge to strip Representative Ilhan Omar of her House Foreign Affairs Committee seat based on false accusations that she is antisemitic or anti-Israel. We may not agree with some of Congresswoman Omar's opinions, but we categorically reject the suggestion that any of her policy positions or statements merit disqualification from her role on the committee."
With Jewish organizations like these, we should not be surprised that antisemitism is rising.
During his campaign for president in 1992, Bill Clinton once famously repudiated the rapper Sister Souljah for speaking favorably about black people killing white people. Clinton's decision to criticize her has long been seen as an act of political genius that helped him win the presidency.
Since then, the phrase "a Sister Souljah moment" has entered the political lexicon. It is a moment when a politician publicly repudiates an extremist person, statement, group or position that is perceived as associated with their own party.
Former President Donald Trump has defended his recent meeting with the antisemitic rapper Ye (formerly known as Kanye West) and the even more virulently antisemitic Nick Fuentes. Trump said he hadn't heard about Ye's antisemitic comments and did not know who Fuentes was before he met him.
Unquestionably, Trump was the greatest friend Israel ever had in the White House. The Jewish community's support for him was reflected in Florida, where Trump went from 24% of the Jewish vote in 2016 to 41% in 2020.
But how could Trump counsel Ye on how to handle his business problems without being aware of Ye's antisemitic comments? How could someone like Fuentes attend a meeting with a former president without anyone knowing his deplorable background? It is clear that Trump needs better advisers.
Moreover, Trump should clearly and publicly condemn Ye and Fuentes. A simple statement by Trump, however belated, will help the fight against antisemitism.
President Joe Biden recently said at the White House Hanukkah celebration that "silence is complicity" in regards to antisemitism. Unfortunately, White House holiday pictures showed Biden smiling alongside both Tlaib and Omar. These photos are a testament to the president's failure to condemn antisemitism in his own party. It is time for Biden to have his Sister Souljah moment and finally do so.
In her farewell speech, Democratic Congresswoman Elaine Luria had such a moment.
"The first time I stood in this very place to speak on the floor of the House, I rose as a Jewish woman to speak out against antisemitism, which has seen a rapid and alarming rise and has even reared its head among our colleagues in our own chamber, in the forms of claims of dual loyalty to those who show support for Israel, our strongest ally in the Middle East," she said.
Luria stood up against antisemitism even from her own party colleagues Tlaib and Omar. It is time for other Democrats to join her.