Chairman Weiss: Maccabiah Matches & Hunger Games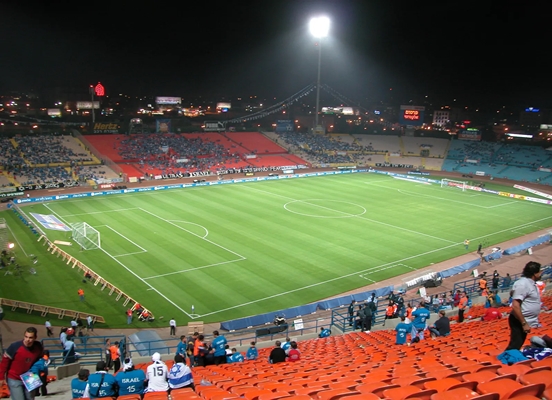 7/31/2022, 12:00:00 AM
It was extraordinary to be among the more than 10,000 competitors overall, and one of more than 1,200 members of the U.S. team, at the Maccabiah games that just ended in Israel.
Maccabiah divides competitors into age groups. I made the team for tennis players 55 and older (age groups begin at 35+ and are in five-year increments up to 80 and above).
I was world ranked 736 in 1986 in singles, after playing Division One college tennis, but that was more than 35 years ago. Making the team and marching into the stadium with all the other athletes is an experience that I will always remember. The opening ceremonies were not only attended by Israeli leaders, but by U.S. President Joe Biden, as well; it was the first time that an American president had attended them.
When I made the team in November, I had one main concern other than getting in shape: I did not want to have to compete on the 17th of Tammuz fast day. I knew that Maccabiah games did not take place on Shabbat, but I heard that they did proceed on this fast day.
My last match on the pro tennis tour nearly four decades ago was on Tisha B'Av (which falls this year on Aug. 6-7). I fasted and lost the match—the last round of qualifying in a satellite, tournament, the equivalent today of a futures tournament.
The U.S. coach, Scott Ehrlich, was completely supportive of my position. But despite having played one match on the first Wednesday and Friday, and none on Thursday, I found out on the night of the fast that two matches had been scheduled for me, one in singles and one in doubles, for the day of the fast. I gave Coach Ehrlich more information about the religious reasons for the fast: that it commemorates the breach of the walls of Jerusalem that eventually led to the destruction of the Temple and the loss of the city; that it was the day on which Moses broke the tablets of the Ten Commandments; when an Idol was erected in the Temple; when the daily sacrifice was halted; and when Roman military leader Apostomus burned a Torah scroll just prior to the Bar Kochba Revolt.
I told him I could not play singles in 90-degree weather in Netanya and still fast. Throughout the Maccabiah, Coach Ehrlich gave me better advice and assistance than my Division 1 coaches had done during my four years playing college tennis. It helped the experience to have such a great coach for our team.
The efforts of Coach Ehrlich led the organizers to move my singles match to the next day, but they kept my doubles match on the fast day. I was still in physical pain from my singles match two days earlier, from what I thought was a bad leg cramp, so I asked a friend who worked at Laniado Hospital in Netanya, which employs around 2,000 people, to get me an appointment with a doctor there.
Laniado Hospital has an extraordinary story. The Klausenberger Rebbe, after losing his wife and while losing all 11 of his children in the Nazi genocide of the Jews, vowed to God that if he survived the Holocaust, he would establish a hospital in Israel.
After surviving the atrocities, he remarried, had seven kids, made aliyah and founded Laniado. The appointment I had was with a top orthopedic Jewish doctor from India, who informed me that I had a partial tear in my quadricep muscle and that I had to drop out of singles. It was devastating news, as I had trained for more than six months for this.
I dropped out of singles. The doubles match started about 40 minutes before the end of the fast. Though fasting and injured, I played and we still managed to win against a team from Argentina, thanks to the performance of my doubles partner, Richard Brail. I later found out that my friend, Chaim Silberstein (who leads extraordinary tours of Jerusalem and runs a pro-Israel think tank), played and won two indoor squash matches while fasting, and eventually won a team gold and individual bronze for Israel.
Another friend and an amazing American-Israeli entrepreneur, Ron Rosenberg, took intravenous fluids to enable him to play ice hockey during the fast. He said that he heard of another Orthodox hockey player who did the same thing.
Eventually, Brail and I lost one round before a medal to an Israeli team in the quarterfinals, and they went on to win the silver medal, as they lost in the finals.
The Maccabiah—in which Jewish athletes come together every four years in Israel to compete—has become the third-largest sporting event in the world, in terms of the number of athletes. It's hard to believe that it started in the 1930s.
It is an amazing event, and the hope is that in the future it will be more respectful of the Orthodox participants by not scheduling for them competitions on fast days. There are other days available for matches, and it's possible, even under such circumstances, to complete all scheduled games in a timely fashion.
I know that the Maccabiah athletes had a great time and were very positively influenced by their stay in Israel. Let's hope that the event's popularity expands, and that more Orthodox players will take part and be accommodated.
It was an honor to be part of the U.S. team. A long time ago, it was thought that Jews were not great fighters; the Israel Defense Forces has shown that this is not true. The Maccabiah is showing that Jews can be good athletes, as well. May the Maccabiah games only grow from strength to strength.